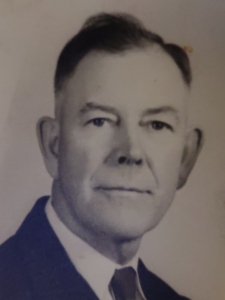 Memories are a treasure trove
of wisdom to the wise
Originally Published on LinkedIn — June 29, 2021
I awakened to the crow of a rooster. In that first moment of consciousness I wasn't sure where I was. I think all of us have had that feeling when you don't wake up in your own bed. I was in a feather bed, a mattress filled with chicken feathers, and I had a feather pillow. I loved it, and I loved where I quickly realized I was. I was at grandma and grandpa's house in rural Nicholas County, Kentucky. I smiled one of those deep smiles that comes to us when we are totally content and happy, just embracing the moment. It was a feeling that nothing could be any better than this. This twinkling in time was 71 years ago as I write, 1950. I was a little boy, 4 years old, innocent to a fault.
It was a small 4 room house with a back porch. I didn't fully appreciate it at the time, but it was truly a special place. My daddy was born here, as was my grandpa. My great grandpa, a confederate civil war veteran, had built it when he came home from the war, and had died here. Great grandpa had also built the root cellar just outside the back door, and it is still there to this day. I last visited the old home place just last year with my son, and as always we both stood in reverential awe. This is hallowed ground in our family history.
On the left, here, is the only picture I have of the home place. That is me standing on the front porch, barely visible, with grandpa's dog, Mac, eager to go play.
I could tell by the morning sounds of the house that grandma was up. I could sense the smells of something that made me hungry being prepared for breakfast. I was hoping for pancakes with bacon or fried bologna.
Nobody ever lived who could cook like grandma. She had an old wood burning cooking stove, and she worked wonders with it. She would start a fire in the fire chamber on the left side of the stove, and let it burn until the top of the stove was just the right heat. She was a master. The pancake batter was made from scratch, and she made her own syrup by boiling water, adding just the right amount of sugar, and letting it cook down until it was just right.
I dressed, and hurried to the back of the house to the room where the table was. Grandpa was sitting there drinking coffee. I looked into the next room and there was grandma busy fixing breakfast. YES!! Pancakes and bacon. What a day this was going to be.
After we had finished breakfast grandpa looked at me, and said, "Let's go feed the hogs." His voice was firm. Grandpa didn't ever ask me anything. He told me. None of this stuff like, "Would you like to go with me to feed the hogs?" No, it was, "Let's go feed the hogs." No option was implied. That was grandpa's way. I liked it. He talked to me like a man. He was a mite gruff on the surface, but I could see the kind, loving man inside him even then. Fact is I couldn't wait to go help him with the morning chores.
Grandpa and I left the house, went through the gate, and closed it behind us. We set out for the corn crib. We walked in silence. Suddenly grandpa stopped. He pointed at me and commanded, "Pull my finger." Without thought, or hesitation, I obediently reached out, wrapped my little hand around his extended finger, and gave it a tug. Grandpa tooted.
There are no words to adequately describe my response. I struggle to adequately convey that moment as I write this paragraph. To say I laughed isn't enough. I became hysterical. I wish there was an even more descriptive word than this. I lost complete control of myself. Grandpa walked on as if nothing had happened. I tried to follow but I was laughing so hard my legs were failing me. I staggered about. I bent over with laughter. I fell face down onto the ground. I rolled onto my back. My legs seemed to spasm, and my heels kicked against the ground. My entire body soul and spirit seemed possessed. I was howling. I was guffawing. I held my stomach with my hands. My sides ached. It was hard to breath. I couldn't stop laughing or regain control of myself.
Grandpa's gift was a memory. Before or sense I have not laughed with such total, unrestrained abandon and lack of dignity. To this day, 71 years later, I cannot tell this story without literally laughing out loud. I'm laughing as I write. It was the funniest thing that ever happened to me. What a priceless gift to give a little boy.
When God wired our minds he gave us the gift of long term memory. Long term memories, however, can certainly be a two edged sword. We all have good memories as well as bad ones. Good memories stand by themselves, and are cherished. Bad memories should also be embraced. If taken as they should be they will not haunt a wise man. They serve him as life lessons to be learned. They are a treasure trove of wisdom to the wise. I have only in recent years come to fully understand this.
Grandpa gave me one more memory that was the antithesis of the day in the barnyard. He died 5 years later when I was 9 years old. It was my first experience with death. He died as he had lived, with his boots on, a strong sense of right and wrong, courage, and a man who took care of his own business. He was a man who would stand his ground. When he died, there was more than just an obituary that appeared in the Carlisle Mercury, the newspaper published in the small town of Carlisle, Kentucky. Grandpa made the news.
Grandpa went fishing one day, and when he came back up to his truck someone had stolen his tools. He thought he knew who had taken them. He knew where the man lived so he drove up to his house. He got out of his truck, and without going to the door, he walked into a small shed. He found his tools. While carrying them out to his truck a young man, known to have mental problems, came out with a rifle. Grandpa fought with the man for the rifle, and as they struggled the man broke free and fired, killing grandpa.
The man was charged with murder, but was found to be mentally ill. He was committed to a mental institution.
Grandpa's last gift to me was a memory of intense grief, a memory for lessons to learn. I've come to cherish both.
I often tell people, "Make a memory." Is there any greater gift? Is there any greater legacy?
Ponder on it, pilgrims.